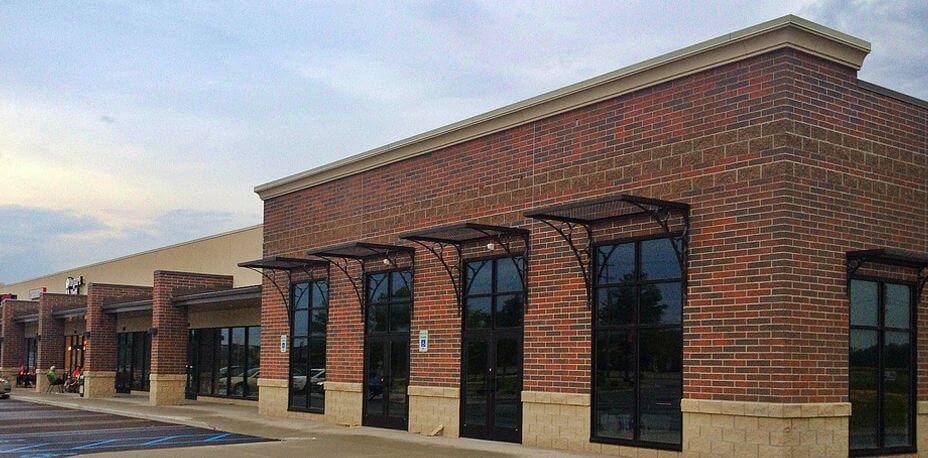 PROJECT: CARDINAL VIEW
LOCATION: KOCHVILLE TOWNSHIP, MI
COMPLETED: MAY 11, 2012
SIZE: 60,000 sf
BUDGET: $1,200,000
New Urbanism levied some mighty blows at Suburbanism over the last couple decades. The pesky automobile keeps it from delivering the real knockout blow. Cardinal View, on the edge of Saginaw Valley State University is an example of good common ground between these feuding philosophies. Tall facades of glass and brick give a sense of an urban fabric to pedestrians, while placement back from the main street allows convenience for drivers and the beloved drive-thru.
Placed at a corner of a main street and a future boulevard that will connect Kochville's commercial district to one of mid Michigan's largest universities, Cardinal View is the flagship, style setting development of the new zone. The retail center is designed with flow and flexibility in mind while maintaining a cohesive, contemporary and unified architectural statement.
Highlighted by a permanently covered promenade for shopping convenience in inclement weather, this enlarged pedestrian zone allows for clusters of outside dining for the delis, ice cream shops and coffee bars.
The building is designed for dual drive thrus but by keeping employee parking in the rear, proximity to the street does not sacrifice the "new urban" feel.